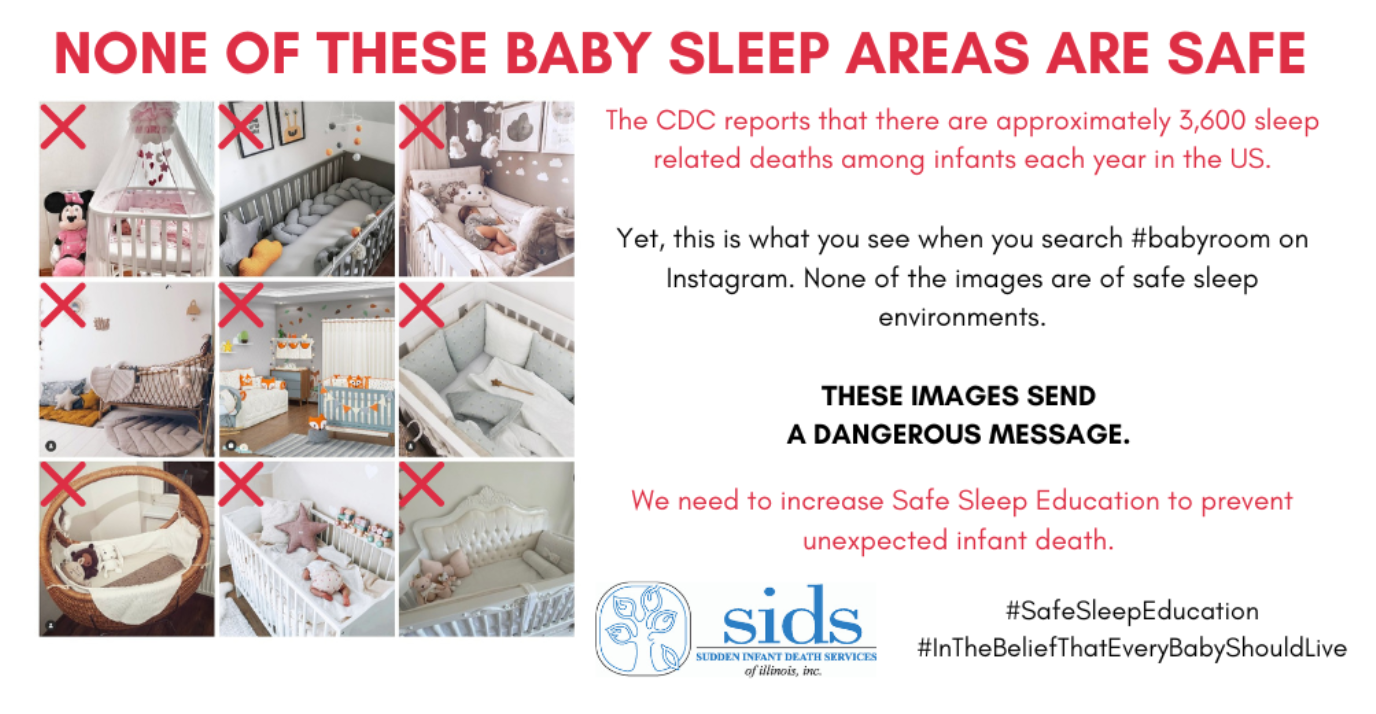 We live in a world where social media influences the images that are presented to us. From a safe sleep standpoint, many of the images shown are unsafe. Look at the image above. These images depict "cute" crib photos but are VERY DANGEROUS AND SHOULD BE AVOIDED AT ALL COSTS.
Elaborate crib mobiles and canopies - There should not be anything attached to the crib, this includes mobiles, or canopy's. It is recommended that if using a mobile, hang from the ceiling, making sure it is tightly secured and away from the child. Remove once your child can sit up. A better place for a mobile is above the changing station.

Crib bumpers - Crib bumpers are a suffocation and entrapment risk. Even the mesh ones are unsafe and should not be used.

Stuffed animals - There should not be any toys or stuffed animals inside the crib.

Lose blankets and pillows - The crib should be free of any loose blankets and pillows which are a suffocation and entrapment risk. Instead, we recommend an approved and safe sleep sack to keep your baby warm.

Bassinet and crib alternatives - There are only 3 safe places a baby can sleep safely 1) a BASSINET manufactured after 6/23/2014 , 2) a CRIB manufactured after 6/28/2011, and 3) a Pack 'n Play manufactured after 2/28/2013. Any other sleep surfaces do not meet the safety regulations set by the CPSC (Consumer Product Safety Commission) and are not approved by the AAP (American Academy of Pediatrics). Some products that are not approved for safe sleep are: Moses baskets, inclined sleepers, DockATot, in bed loungers (known as in bed sleepers in other countries) and more.
If you have questions regarding your baby's sleep surface, send us an email at SIDS@sidsillinois.org. We are always here to answer any questions and offer helpful suggestions!